Event Details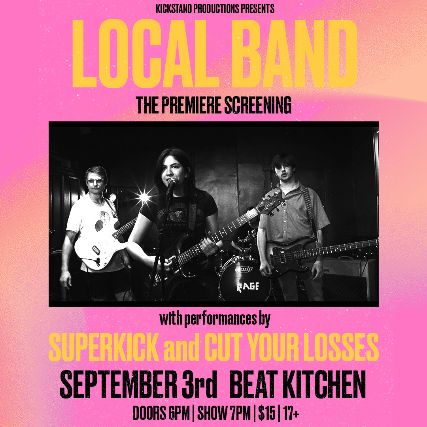 Kickstand Productions Presents
LOCAL BAND MOVIE PREMIERE, Cut Your Losses, Superkick
with
LOCAL BAND MOVIE PREMIERE
,
Cut Your Losses
,
Superkick
Film Pop Punk Rock
Sun
September 3, 2023
7:00 pm
(Doors:

6:00 pm

)
Beat Kitchen ,
2100 West Belmont, Chicago, IL
Ages 17 and Up
$15.00
LOCAL BAND MOVIE PREMIERE
Film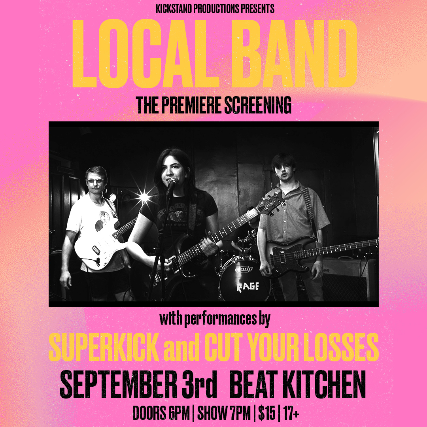 Cut Your Losses
Pop Punk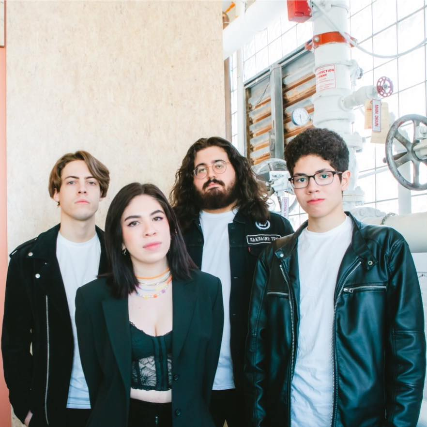 Formerly Skylight Cinema, Cut Your Losses is your friendly neighborhood, Chicago-based, emotionally unstable, alt-rock band. Their goal is simple: create music that's honest and gets people feeling something. The defining sounds of Cut Your Losses are based upon their refusal to stay within the realm of a singular genre, having referred themselves as being a "Post-Pop-Punk-Prog-Easy-Core" four piece. Their debut EP, "Get It Together" is a four track release that not only gives their listener a taste of their range, but also a look into their lives with past relationships, mental health, and looking at better days with those dear to you. Cut Your Losses officially formed in 2019, and is comprised of vocalist/guitarist duo Isa Martinez and Alex Criminger, drummer Joseph Martinez, and bassist Joshua Lines. The next time you come to see them live or in the wild, be sure to say hi, they're pretty friendly.
Superkick
Rock