Event Details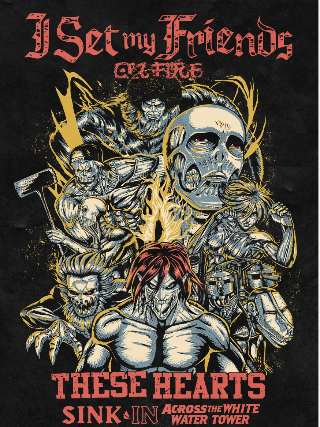 Kickstand Productions Presents:
I Set My Friends On Fire, These Hearts, Sink In, Across the White Water Tower, Blind Equation
with
I Set My Friends On Fire
,
These Hearts
,
Sink In
,
Across the White Water Tower
,
Blind Equation
Post-Hardcore Alternative Alternative Metalcore Metal
Fri
August 12, 2022
8:00 pm
(Doors:

7:00 pm

)
Beat Kitchen ,
2100 West Belmont, Chicago, IL
Ages 17 and Up
$20.00
I Set My Friends On Fire
Post-Hardcore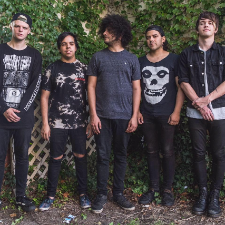 I Set My Friends On Fire, hailing from Miami, FL, are the end result of a sonic mind-meld of Nabil Moo and Matt Mehana. After a couple of years playing together as We Are The Cavalry, Nabil and Matt formed ISMFOF in late August 2007, but don't be fooled by the years under their belts. These are decidedly not old music vets, but rather uber-precocious teens who started their musical journey around the same time they started high school. The duo records thusly: Matt does the singing (fueled by "plutonium and Wheaties") and Nabil does everything else, and while this division of labor may seem unfair to some, Matt and Nabil are united by their genre-defying take on music and their desire to f*ck with people.

In the beginning...

September, seemingly on a whim, Nabil and Matt decided to record a rock/screamo version of Soulja Boy's "Crank Dat" which they called "Crank Dat Cavalry Boy." Once the track hit their myspace page, it became apparent that I Set My Friends on Fire had stepped in a big steaming pile of hit. The song got upwards of 50,000 plays A DAY, so many in fact, that Myspace deleted the band's account, thinking they were using software to artificially increase their spins. In the time it took the band to remedy the situation, dozens of imposters set up phony I Set My Friends on Fire pages, and the song found its way to Limewire. To date, the track has been played over 1 million times.

ISMFOF followed up "Crank Dat Cavalry Boy" with two original tracks: "ASL" and "Beauty Is in the Eyes of the Beerholder," and recently released the new song "HxC 2-Step," which they recorded "just for fun." Total plays on the band's myspace page? Over 4.2 million and counting...and all without the benefit of a physical CD release or a record company's promotional efforts.

Currently...

Being the superheroes that they are, Nabil and Matt so far have been able to write and record a song in a few days. No writers block here! Their efforts are made that much easier by the fact that they do all their recording in their house, by themselves.

The band writes: "the reaction has been overwhelmingly positive as we find out that our music is reaching all over the country (and even the world): one kid today even emailed us today and said that I Set My Friends On Fire was voted "favorite band" in his high school's 2007-08 yearbook! Others have said that our songs have been played at homecoming rallies and have spread all over their towns."

I Set My Friends on Fire so far have been the face of the new DIY movement in the digital age. On their own, Matt and Nabil were able to secure a cover story for their band in the Aquarian Weekly, and were booked on Bamboozled 2008. It is their creative self-promotion and undeniably catchy songs that caught the attention of Epitaph label owner Brett Gurewitz, who inked the band to a partnership of sorts in spring 2008. With the backing of one of the largest independent record companies in the world, whose ethics and aesthetics jive perfectly with I Set My Friends on Fire's, the sky is the proverbial limit for these two kids from Florida.

The band's debut album, You Can't Spell Slaughter Without Laughter, melds the band's unique sense of humor (as evidence, simply read the song titles and lyrics) with an onslaught of thrash angular guitar riffs, pulsing dance beats, brutal breakdowns, sassy screams and lush melodic choruses.

"Our album is very eclectic and we feel that it will give the people something completely new," explains Nabil. "It has all kinds of styles woven in. The album is like a typical relationship gone wrong, spanning emotions that include joy, uncertainty, anger, hate, confusion, alienation, and everything in between."

ISMFOF ambush listeners from the get-go with the tumultuous track "Beauty Is In The Eyes Of The Beerholder," which pairs metal riffs and hardcore breakdowns with melodic sing along choruses. A virtual workout, physically and aurally, the album continues its relentless electro-grindfest with tracks like "Ravenous, Ravenous Rhino," "WTFWJD" and "ASL," which will have everyone spastically convulsing towards the dance floor. "Fans will find the tracks they've come to know us for, including "Crank Dat," and "ASL," but the album has many new tracks which continue the energy and songwriting that fans to come to know us for," says Nabil. "There are also more mellow tracks, including the "Interlude," which is a very chilled out instrumental break from the intensity of the rest of the album."
These Hearts
Alternative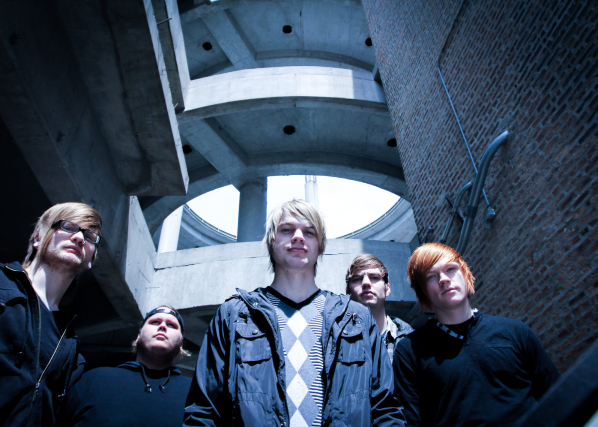 Sink In
Alternative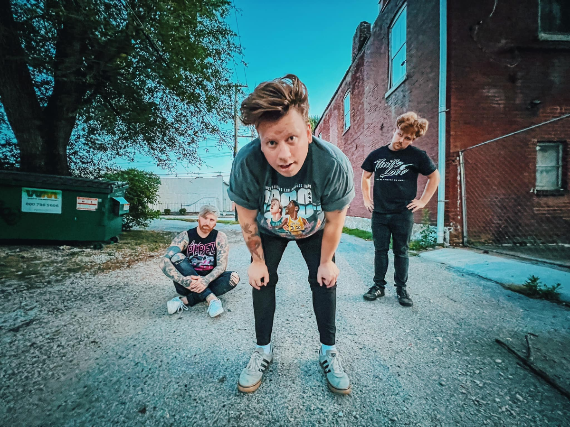 Across the White Water Tower
Metalcore
Blind Equation
Metal